Masses have resumed.
Monday to Friday Mass: 9 AM
Saturday Mass: 5:15 PM
Sunday Mass 10:00 AM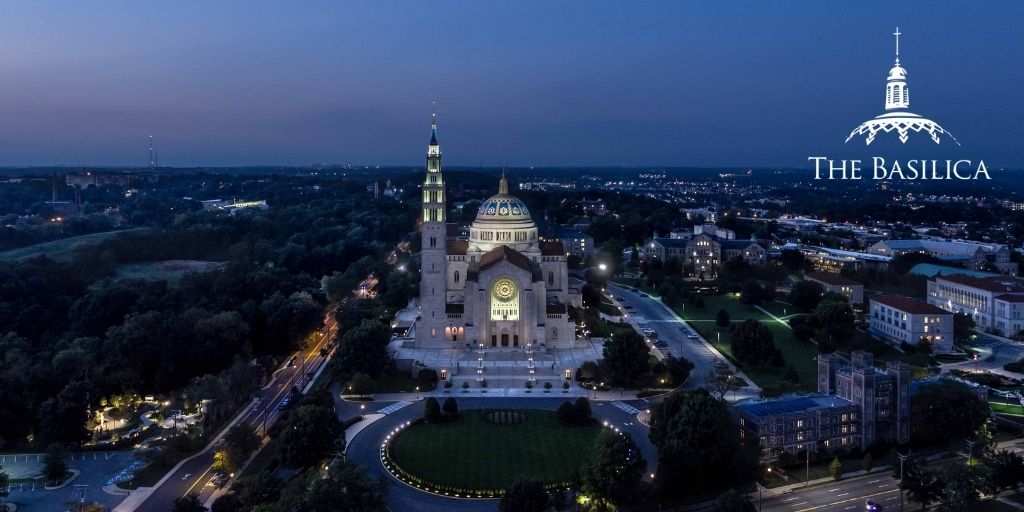 The 2021 National Prayer Vigil for Life will take place Thursday, January 28, through Friday, January 29. Please note that, due to COVID-19 restrictions, there are significant changes to the schedule and limitations for in-person participation. However, we invite you to join us virtually via livestream on our website and via broadcast on EWTN.
https://nam12.safelinks.protection.outlook.com/?url=https%3A%2F%2Fwww.nationalshrine.org%2Fevent%2F2021-national-prayer-vigil-for-life%2F&data=04%7C01%7Crbauhoff%40drvc.org%7Cac9e94f3de8f4ff0b29808d8b632fa71%7C40af6aff069848a9aeb4a4362b4eb806%7C1%7C0%7C637459677351098354%7CUnknown%7CTWFpbGZsb3d8eyJWIjoiMC4wLjAwMDAiLCJQIjoiV2luMzIiLCJBTiI6Ik1haWwiLCJXVCI6Mn0%3D%7C1000&sdata=MFAY03msUyh%2FuRkITRxplFeqKJXm1y7FC8m%2FE5oGhlk%3D&reserved=0
Thursday, January 28, 2021, 8pm – 11pm
8:00 p.m. National Rosary for Life
8:30 p.m. Opening Mass
Celebrant & Homilist: Archbishop Joseph Naumann of Kansas City in Kansas – Chairman, USCCB Committee on Pro-Life Activities
10:00 p.m. Holy Hour for Life
Friday, January 29, 2021, 8am – 9am
8:00 a.m. Closing Mass
Celebrant & Homilist: Archbishop William Lori of Baltimore – Chairman-Elect, USCCB Committee on Pro-Life Activities
---
---
---
Religious Ed. information and links
All questions regarding Religious Ed. should be directed to Bullet at bullet007@hnjchurch.net or (516)-921-2334 ext. 10. We are currently conducting classes for grades 2, 4, 5, 6, 7, and 8. Grades 7 and 8 are conducted in person in the church hall on Monday evenings from 7:15-8:30 PM with appropriate social distancing. All other grades attend class online on Monday afternoons (5-6 PM for grades 2, 4, and 5, and 6-7 PM for grade 6).
Anyone interested in registering their child for Religious Ed. should fill out the registration form at the link below and return it to the church office as soon as possible.
Religious Ed registration form
---
Bishop Barres's Pastoral Letter – Evangelium Vitae
Bishop Barres Letter to College Students
---
Please click here for a message from our business manager, Lorelei Onglengco, regarding online donations.
---
---
The parish food pantry is just about depleted. We've had an increase in the number of requests for food assistance. May I ask this favor – when you come to the Church, would you please bring a can or two of food, or a box or two of pasta and/or rice or some other non-perishable food items to donate to the parish food pantry to help some local residents who need some assistance at this time? You may leave donations for the food pantry at the Church any day.
— Fr. Bauhoff
---